The Art of Lucid Dreaming – A 3 Day Workshop with Hayden Ebert
November 15 – 17 2019 – £250 (£200 Early Bird Price)
Buy Tickets Now
Lucid Dreaming is the profound experience of becoming aware of your dream state whilst you're still dreaming. For thousands of years, mystics have used these experiences to explore spirituality, consciousness and the bounds of reality. In more recent years the scientific study of lucid dreaming has begun to uncover some of the underlying principles by which we can all enjoy and benefit from this amazing natural phenomena.
I am delighted to announce that in November I will be hosting lucid dreaming expert Hayden Ebert at my therapy rooms in Sudbury, for a 3-day workshop teaching the art and skill of Lucid Dreaming in November.
The Overview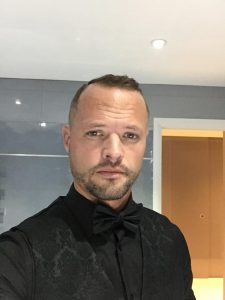 The workshop will be a spread over 3 days, teaching the concepts of lucid dreaming and methods used to have more of them, how to gain more control of them, and how to use them to enhance your life.
Starting with a Friday evening session, Hayden will give some very practical instruction on how we can all have the best chance of getting lucid that very night.
Saturday will be an in-depth exploration of the concepts and skills required to increase frequency, length and control of your lucid dreams. In the afternoon there will be an opportunity to try out methods of brain-wave entrainment, including an opportunity to use a Pandora Star machine that can help with this and inducing other altered states.
We will also explore advanced supplementation for lucid dreaming and out of body experiences, and prepare for our second opportunity to get lucid that night.
Sunday morning will be a review session, where are can all share and discuss our experiences of the previous two nights. We will also discuss how to take what has been learned from the weekend further in our own future practice of the art and skills of lucid dreaming
Hayden's events are always guaranteed to be both fun and informative and consistently over-deliver on value.
The cost of the weekend will be £250, with an early bird price of £200 for the first 5 to sign up.
THERE ARE ONLY 15 SPACES ON THIS COURSE
Full Details
Location & Venue
The workshop will be hosted at my therapy rooms in Sudbury, Suffolk and will run from Friday 15th to Sunday 17th November.
Full details of where to find me can be seen at www.sudburytherapyrooms.co.uk
Free tea and coffee will be provided, I might even share my stash of biscuits. There are fast food options and Tesco/Costa nearby, and we are a 3-minute drive from the centre of town so there are other choices for food reasonably close by.
Hotels & accommodation
There are a number of good affordable hotels in Sudbury. The 3 that I have been telling people about are :
The Mill Hotel – My favourite place. Excellent facilities and food, I go here for food or social drinks from time to time. It can be a little on the expensive side but you can also get an amazing deal on rooms if you search (see below) – I've seen them as low as £40 per night!
If you can get a room with a view of the meadows then you will be in for a treat – these meadows were painted by Constable and Gainsborough!
The Black Boy – A lovely old town centre pub offering food, drink and comfortable accommodation.
This hotel is referenced in Charles Dickens' The Pickwick Papers as the place where local politicians would sit and hand bribes out of the window to buy votes. The alleyway with the window is still there, although the politicians are a little more discreet these days…
Hill Lodge – A comfortable and affordable hotel, very conveniently situated on the same side of Sudbury as my therapy rooms. Definitely the best value if you aren't getting a super deal at one of the others.
———————————
Hotel booking via Trivago here (You'll get a better deal on Trivago) -There are other local hotels listed on Trivago and I can't see any that I would avoid, but if you're unsure call me and I can tell you what I know.
Contact
My phone number is 07967 473 691
Hayden's phone number is XXXXXXXXXXXXXXXXX
Payment
The cost of the weekend will be £250, with an early bird price of £200 for the first 5 to sign up.
THERE ARE ONLY 15 SPACES ON THIS COURSE